LYME POETS, AUTHORS and LYME ARTISTS
_____________________________________________________________________
Please submit your works electronically to EmpireStateLyme@aol.com We hope that you enjoy these works as much as we do. (We respect copyright laws.)
_____________________________________________________________________

Ode To Tinidazole
by Bob Morgenstern

Tinidazole, Tinidazole
Harken to the battle call
Slay those spiros, one and all
Leave them crying, dying,
Lying where e're they fall.

Arrest their gain, stay my pain
Seep deeply into my brain
Each and every germ detain, profane
Never stop 'till each is slain
Rejoice in thy bacterial disdain!

When foe be vanquished, after all
Hear, oh my hero, Tinidazole
Never fear that I'd grow sick o' ya
Nay. Stay to battle vile Erlichia.
_____________________________________________________________________
LYME ARTISTS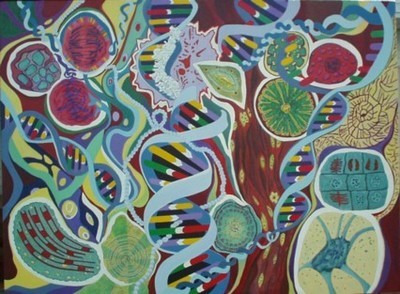 Microcosm by Eva Haughie
_____________________________________________________________________

Paddle Your Own Canoe - Sarah Bolton, 1851
Voyager upon life's sea,
To yourself be true,
And whatever your lot may be,
Paddle your own canoe.
Never, though the winds may rave,
Falter or look back;
But upon the darkest wave
Leave a shining track.
Paddle your own canoe.

Nobly dare the wildest storm,
Stem the hardest gale,
Brave of heart and strong of arm
You will never fail.
When the world is cold and dark,
Keep your aim in view;
And toward the beacon work,
Paddle your own canoe. ...

Would you crush the giant wrong,
In the world's free fight?
With a spirit brave and strong,
Battle for the right.
And to break the chains that bind
The many to the few
To enfranchise slavish mind,-
Paddle your own canoe.

Nothing great is lightly won,
Nothing won is lost,
Every good deed, nobly done,
Will repay the cost.
Leave to Heaven, in humble trust,
All you will to do:
But if succeed, you must
Paddle your own canoe.
Thanks to PJ LANGHOFF for sending this

To submit work for inclusion, Please contact: EmpireStateLyme@aol.com
Lyme, you're a four letter word
by Bob Morgenstern
Lyme, you're a four letter word
Closely resembling turd
Dropped by a bird
Left by a herd
We won't rest 'til we see you interred.

You live in a bug in the grass
That sucks on good people who pass
But we belong to a faction
That celebrates action
We'll straighten out your little squiggly ass.

You're Ugly, you're Scum
You're Dirt, you're a Bum
(Each with a capital letter)
You're Disgusting, you Smell
You should go straight to Hell
(There, now I feel so much better).

We're warriors, we won't stop 'til we're through
We're determined to eradicate you
The future's no mystery
You'll be ancient history
And your buddy Erlichia, too!

_____________________________________________________________________

The Chick From Nantucket

by Bob Morgenstern
There once was a chick from Nantucket
Who brought home a tick in her bucket,
She was lucky this time
She didn't get Lyme
And as for the tick she said "fuhgeddabout it, I'm gonna spray the little bugger".
_____________________________________________________________________

You Could Drive Me If You Want To

by Bob Morgenstern
You could drive me if you want to
You hear what I said?
You know there's no good reason
To spend the day in bed.

You think that some bug bit you
And made that rash you found
The rash went away, and by the way
Would you get my suitcase down?

All those doctors can't be wrong
With all those tests they gave you
You're your own worst enemy
And only you can save you

So come on, get up, get out
The airport's not so far
And by the way
Please carry my suitcase to the car

You could drive me if you want to
You know you're not really sick
There's no Lyme here in the city
You never even see a tick

No? O.K., so long. This is all you're fault you know
I left my bags out in the foyer
I'm going out to find a cab
I'll have my lawyer call your lawyer.
_____________________________________________________________________

ON Giving Blood

by Bob Morgenstern
The clinic clerk glared down at me
When I went to give blood today
"Just because you own the stuff
Doesn't mean you can give it away.

We need someone whose blood is pure"
I said that I'm G-d fearing
"Do you have any T.B.D.s" she said
"Only the pair I'm wearing"

"Have you ever had Babesia?"
"No, that was one I missed
But she was only sweet sixteen
And still had never been kissed".

"Are you an alcoholic?
How much did you drink today?"
"If my blood had all that alcohol
Do you think I'd give it away?

"What about substance abuse?
Have you ever snorted coke?"
"My friends and I tried it once
But the bubbles made us choke"

"Have you ever had a bout with AIDS?
The mother of all curses?"
I said the only aids I knew
Are the ones who help the nurses.

She gave me an organ donor card
For one last benevolent act
I said "after what you put me through
I'll just leave this world intact"

I walked to the door and said
"Find someone else to save the nation
If Dracula followed your protocol
He'd be faced with sure starvation!"

_____________________________________________________________________

Babesia Told Erlichia

by Bob Morgenstern
Babesia told Erlichia
"Let's go have some fun
We'll fly on down to Ticktown
To see the ponies run.

Put on your hotpants, I'll wear my red dress
We'll fly the Black Crow Airway
We'll be at the club tomorrow night
And sleep right on the fairway.

A quick-trip tick will do the trick
It's off to the county fair
We'll settle in twixt hair and skin
And dine on a dark bay mare

We'll stay a day down in the bay
And start a bacterial brood
Or hitch downtown to the local pound
Depending on your mood".

Erlichia told Babesia
"Before I get much thinner
Pack your stuff, I've heard enough
Let's go on out to dinner!"

_____________________________________________________________________
Night Before Lyme Christmas

by Bob Morgenstern
'Twas the night before Christmas
And out on the 'net
The Lymies were talking about
What they would get

They talked of prescriptions
Their stockings were fillin'
Doxy, Amoxy
Zithro, Ampicillin

Flagyl, Mepron,
Claforan, Tinidazole
Some on I.V. Rocephin
Stuck tied to a pole.

After a while
they went off to their beds
And dreamed of being healthy
And not needing meds.

They rode bikes and scooters
and jogged in the Fall
Took out the kids
For a game of football

Went picnicking, camping
Swam in the stream
But then they awoke
It was only a dream

Out came the Excedrine
Out came the Aleve
But wait! A whisper
Hard to believe!

A calling
Quiet at first
Then louder and louder
As if the sky burst!

A saint? An apostle?
Can't make a decision
Some sort of salvation
Of undetermined religion

"Come out all you Lymies
If you don't you'll regret
Tonight is a night
You'll never forget"

Lights on, out they stumbled
With sleep in their eyes
Unhooked their I.V.s
And looked to the skies

There was Frank, there was Julie
Annie, Barb too
Lovey and Georgia
And from New Jersey, Sue

There was Brite and Kathleen
MisTick and her brood
Eva and Norm
(He's a real cool dude!)

I saw Kay, Bryan, Amy
And Sarah, and Art
And Joel, and others
All waiting to start

"Look what I've brought
You won't be dismayed
You all have insurance
Your bills are all paid

"An extended vacation
For the O.P.M.C.
And freedom to practice
For all L.L.M.D.s

So forget swollen knees
Your future's secure
We've killed Lyme disease
I brought you the cure!

And there's no more Erlichia
So each little tick
Will still be disgusting
But it won't make you sick.

Next morning was painless
Out in the sun
They did all the things
They missed, that were fun

Now they still talk on the 'net
But their love is enough
And instead of disease
They just talk about stuff.
_____________________________________________________________________
Do Not Go Gentle Into That Good Night
Dylan Thomas
Do not go gentle into that good night,
Old age should burn and rave at close of day;
Rage, rage against the dying of the light.

Though wise men at their end know dark is right,
Because their words had forked no lightning they
Do not go gentle into that good night.

Good men, the last wave by, crying how bright
Their frail deeds might have danced in a green bay,
Rage, rage against the dying of the light.

Wild men who caught and sang the sun in flight,
And learn, too late, they grieved it on its way,
Do not go gentle into that good night.

Grave men, near death, who see with blinding sight
Blind eyes could blaze like meteors and be gay,
Rage, rage against the dying of the light.

And you, my father, there on the sad height,
Curse, bless me now with your fierce tears, I pray.
O not go gentle into that good night.
Rage, rage against the dying of the light.

Robert Herrick
To the Virgins, to Make Much of Time
Gather ye rosebuds while ye may,
Old time is still a-flying;
And the same flower that smiles today
Tomorrow will be dying.

The glorious lamp of heaven the sun,
The higher he's a-getting,
The sooner will his race be run,
And nearer he's to setting.

That age is best which is the first,
When youth and blood are warmer;
But being spent, the worse, and worst
Times still succeed the former.

Then be not coy, but use your time,
And, while ye may, go marry;
For, having lost but once your prime,
You may forever tarry.

For Ellen and Eva-Is It Really You?
by Bob Morgenstern

Well, I don't believe it! Is it really you?
Where've you been keeping yourself hid?
You look absolutely fabulous
But then, you always did

A haven't seen you since those Lyme days
(I should say "Lyme daze", that's for sure)
I still remember where I was
The day Kathleen found the cure

That was a clever trick of hers, using salt, heat and alcohol
To make the Spiros burst
And then all those phony doctors
Claimed they'd found it first

Well you never would believe
What happened to Kathleen
It was her own company
That developed the vaccine

She got so healthy and took up skiing
Now she's always out
But you know, I still don't understand
Half of what that girl's talking about

And remember that painting Eva donated
For the big fundraising bash?
I heard it was just purchased by the Frick museum
For an unconscionable sum of cash

Brite's finally back to normal
And Regina, and Deborah too
One of the only people I'd hadn't heard
About was you

Boy, those were crazy days
Which I know I won't forget
About the only good thing about that damned disease
Was the great people that we met

Funny, how I still don't drink
Maybe some day I will
It took a long time getting used to waking up
And not having to take a pill

Remember that buying trip across the border
When we were questioned by the Feds
It didn't seem they'd ever be convinced
That all those pills were meds

And the politicians that we lobbied
So our doctors would be free to treat us
And all that Big Business money
Wasn't enough to beat us

We actually changed the way the whole country looked at Lyme
I'm proud to have been in that fight
We overcame all that resistance and convinced the politicians
Because we were so obviously right!

You know, it's funny, looking back
With all the confusing and frustrating mental haze
How in spite of all the grief and pain
They were still the good old days.

Well, I can't tell you how good it's been
Seeing you here today
We never should have drifted apart
After coming such a long long way

You know, we need a reunion
Soon, without a doubt
I'll make up invitations
We have a lot to talk about!