Report on the Saratoga Lyme Forum, May 21, 2012

(A Forum on Tick-Borne Diseases - What's NEXT?)

Many thanks to Congressman Chris Gibson, organizers Chris Fisk, Holly Ahern, keynote speaker Pamela Weintraub, and honored speakers.

As patients' support of this event was overlooked, we'd like to publicly acknowledge the dedicated volunteers from the Adirondack Lyme Disease Foundation and the Capital Region Branch of Empire State Lyme Disease Association, The Lyme Disease United Coalition and others!

"Your News Now" (article below) completely overlooked the patients by mistakenly stating that 500 medical and environmental professionals attended. We counted several times to be certain and there were 260 people in the audience; then with the panel members and volunteers, the total was about 300 in attendance. There were not many medical or other professionals; indeed, when one speaker asked for a show of hands of patients and loved ones of patients, most of the audience raised their hands. Over 200 patients came, at their own expense, from local areas and from New Jersey, NYC, Massachusetts, Long Island, etc. The Forum speakers were informative, but no immediate solutions were promised for patients!

Much was said about needing more funding for research. Ironic, because since when has "It's in the literature," been the cry that helped us?

Of course, research might get us closer to solutions, but no amount of research will dictate a universal absolute and perhaps we should stress that it should not do so! For when the IDSA handed down their 2006 guidelines, an illusion was created as if they were handing the guidelines from on high and perhaps many of the establishment think the IDSA guidelines are a law.

I sat on the panel next to the very Honorable Congressman Chris Gibson.

I would like him to know what patients said to me.

Patient A:

"Research is fine, but to just give money to people who may not even help us in the long run especially doesn't do us any good right now. Patients desperately need help today, now!"

Patient B:

"Great event, but if something isn't done immediately, more and more patients will never get well, more will die."

Finally, Patient C: "Doctors who do not treat us should be charged with criminal negligence when the patient dies."

We talked with the man who said this and discovered he was a retired police lieutenant and he almost died because he ran out of money to pay for treatment. Fortunately he was able to continue treatment, but he worries about people who aren't as lucky.

With all due respect and much appreciation for his efforts, Congress Gibson needs to know that funding for research is not going to afford any relief for the people who are currently struggling to survive. Funding for research will not even help the next few years of patients who will be added to the list. If and when this legislation should pass, it could be years, yes, years before we would see any positive results from its passage. Please consider that these steps have to occur for each research study that is proposed and completed.

1. Funds would have to be allocated, for the formation of a committee, for expenses, for granting, and so on.

2. Committees would have to be created, where people have to be vetted and asked to contribute their time,

3. Once a committee is assembled, then meeting times have to be determined.

4. Once the overseers of the funds are set in place, this committee will spend time on deciding how the funds will be offered, determined, granted, and distributed.

5. Then the availability of these funds would be announced, publicized.

6. Then researchers, educators, and so on would have the opportunity to apply for grants.

7. Then the applications would be reviewed and the committee will decide who receives grants.

8. Then the grants would be awarded and

9. The checks are then sent out.

10. Then the checks would be cashed.

11. Then research teams would be assembled.

12. The various responsibilities are decided within the research team.

13. The office and laboratory space are provided

14. The times and days that the research team would meet and do the research are decided.

15. Then the research would finally begin.

16. If human subjects are required, the long process of acquiring subjects begins.

17. Controls usually are required, the controls are set in place.

18. Then finally the actual study begins.

19. The processes are performed.

20. The data are obtained.

21. Then data are compiled.

22. Results are determined and then reviewed.

23. No small amount of time is then spent writing up the study.

24. Then, most likely the grantees will have to report back to the funding committee.

25. They will likely have to get approval of their written reports and their conclusions from the committee and also from others, such as their department heads.

26. Time goes by as the committee waits for approvals to submit the final article to scientific and/or medical journals.

27. The research committee waits, hopefully, for publication acceptance.

28. If published, the studies and the conclusions are interpreted, discussed, weighed by the scientific community.

29. The final work is either valued or devalued or kept in scientific limbo where scientists, medical and other professionals will perpetually argue about it.

30. Until such time as another study is done with its purpose being to either validate the outcome of the first study or invalidate the first study completely.

Remember please that the 30 or so step process will happen for each study!

We've witnessed over 30 years of debate, an utter war over the Lyme research already done. Patients can not wait for passage of legislation that will only scratch the surface of the research process, indeed, wait for legislation that can give no guarantee that the funded research will help even one patient unless maybe a patient was accepted in a double blind study- as long as he is not the one given a placebo!

We aren't against this legislation, but we urge everyone to see the reality of the processes. There is a gap between this legislation and its ability to help patients just as there is more than one gap between scientific study and reality. And this scientific study-reality gap is important because it further illustrates how research and studies are not even close to being a solution for the immediate needs of the patients.

The first gap would be the in vitro versus in vivo dilemma where what happens in a test tube or in the body of a mouse may not be the same as what happens in the human patient. A second gap is one of human, not error, but the degree of carefulness, where laboratory researchers are endowed with a responsibility to be overly rigid about every detail of a process. This second gap when tests are done, or medicines are prescribed and taken in a clinic or in a home, there is no constant monitoring by scientific researchers. The result of the second gap is that in reality, the outcomes may not be that similar to the laboratory experience. The third gap is one of time. We have seen how long it takes to just to have the results of a study. We have waited patiently for the published studies of doctors who did research that we wanted. (Fallon, for example) We have seen scientific research to create new medicines, such as Tigecycline end in confusion, delays and as far as I know, non-use, therefore, once again, sadly, no help for patients.

We at Empire State Lyme Disease Association would urge our government, our Honorable Congress Members, and Senators to please do not forget how many people are already suffering and yes, have died due to the continuation of the Lyme wars, due to the destructive fight between medical professionals, due to the continued war over the treatments, and the ridiculous arguments over diagnosis. Doctors must stop saying and/or believing, "There is no Lyme here," or "Lyme is over-diagnosed," or "Your test is negative, so you don't have Lyme." Before anything else, can we FIRST try to get that to happen?

We must, because while the cry is for more research and everyone seems to love the idea, Congressman Chris Gibson, et al, what about the cries of the patients?

This is well beyond having compassion for the patients. It is about saving the lives of children and all the people who have the misfortune yet common experience of being bitten by a tick or other vector of disease and then contracting a possible plethora of diseases.

THIS IS URGENT: The federal Lyme legislation that Congressman Gibson et al are supporting has inserted a separate bill that they didn't write into their bill. This separate bill was originally created by, written by and then requested by the Lyme Disease United Coalition, the LDUC. We demand that the part of the federal legislation that originally was the LDUC bill be taken out of Congressman Gibson's bill to allow it to revert back to a separate bill that is NOT PIGGYBACKED onto any other bill! In this way, this LDUC bill can be voted upon and perhaps passed right away! Immediately! The LDUC bill requires no federal funding, but it provides for a requirement of the education of doctors with ILADS information. In this way, all doctors will be alerted that tick-borne diseases are common, that the tests are not reliable, that patients cannot always recover easily, and that they may need extended care.

We all must think of things that can be done for immediate relief. We must convince doctors that it is harmful to say and/or believe, "There is no Lyme here," or "Lyme is over-diagnosed," or "Your test is negative, so you don't have Lyme." Can we also try to get that to happen? It doesn't seem that difficult. In 2002 NYS passed Resolution 2155 about Lyme disease. In 2002 the New England Governors also passed a Resolution about Lyme disease. We should be covering doctors' office walls, hospital walls, and laboratory walls with these Resolutions and perhaps with other official or scientific documents. Perhaps the federal government would pass a similar, updated Resolution as NYS and New England did in 2002?

Thank you,

Eva Haughie,

President, Empire State Lyme Disease Association, Inc.

Your News Now Time Warner Cable. The power of you ™ Updated 05/21/2012 04:09 PM

Skidmore hosts Lyme disease forum By: Web Staff

An all day forum at Skidmore College aims to raise awareness about a growing problem in the region: Lyme disease.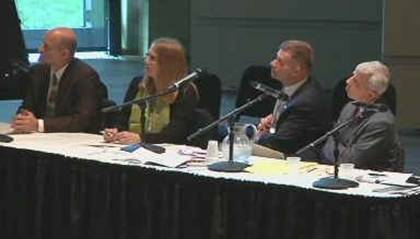 People on the panel from Left to Right: Insurance representative, Empire State Lyme Disease Association, Congressman Chris Gibson, and Infectious Disease MD.
SARATOGA SPRINGS, N.Y. -- An all day forum at Skidmore College aims to raise awareness about a growing problem in the region: Lyme disease.
Congressman Chris Gibson served as honorary co-chair for Monday's "Lyme Next Forum." The event brought together more than 500 health and environmental professionals.
The goal is to find better ways to prevent, diagnose and treat the disease, which already affects several thousand people in New York State. Some studies even suggest the amount of people with Lyme disease and other tick borne illnesses is anywhere between 10 and 80 times higher than what's been reported. Many believe the reason why is a lack of awareness.
"I think to the extent that we can raise the level of awareness about what parents or victims need to know, such as, you don't need to have a bull's eye rash, you may have no rash at all. That just some fairly rudimentary facts about Lyme disease will probably help a lot of people," said Christina Fisk, a mother of a Lyme disease patient and forum co-chair.
Some of the key symptoms to look out for are extreme fatigue, headaches, a rash and neck stiffness.